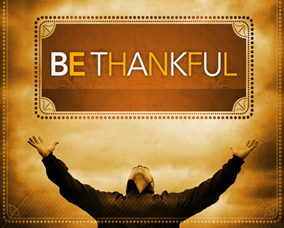 Again, the season for gratitude is upon us. In reality, gratitude has no season. Every season should be one of gratitude; the heartfelt appreciation for whatever one receives. We are to be grateful for everything… for every day, every hour, every minute, and every second; for all things – big or small, tangible or intangible.
For some, this might be a daunting task. So, here are three ways to remain in a state of "gratefulness" – no matter what's going on in your life.
Make thankfulness a habit. Get in the habit of thanking people. Thank them for little things, even when they don't expect it. For example, when someone inquires about your day, thank them for asking. A little thing… but your response says, "I appreciate your interest or concern."
Count your blessings. No matter how difficult your life might be, someone has it worse. Every day, make a list of 5 to 10 things, people or situations for which you are grateful; and count your blessings.
Focus on the positives. For every negative, there is a flip side – a positive lesson to be learned. My mother was a master at looking at the flip side. Her personal motto was "I won't complain". No matter what was happening in her life, she always looked at it from the positive side. To her family, friend, and neighbors, she was known for always looking on the bright side; and never, ever complaining.
People who are eternally grateful are happier, healthier, and enjoy life more fully. So, not only during the season, but throughout the year, remain in a state of "gratefulness". No matter what is going on inside or outside of you, there's always something to be grateful for.